Message of the Dean, Faculty of Graduate Studies, University of Colombo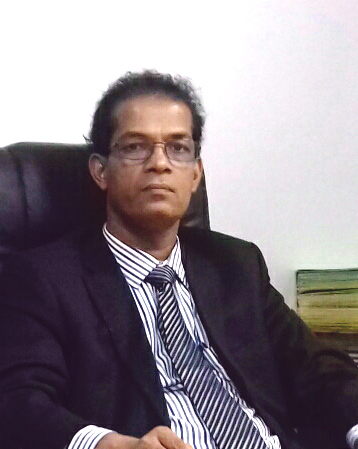 Professor A. A. Azeez
Professor in Finance
Ph.D, Yokohama National University, Japan
Dean/ Faculty of Graduate Studies
It is with great pleasure I welcome you to the Faculty of Graduate Studies (FGS), University of Colombo. The FGS is one of the key contributors to human capital development in Sri Lanka and provides leadership and support for excellence in graduate education and research. We provide a stimulating environment for graduate study in multi-disciplines, offering over 28 programmes on Business Studies, Development studies, Manufacturing Management, Gender and Women Studies, Japanese Studies, Environmental Management, Information Systems Management, Counselling and Psychosocial Support, Labour Relations and Human Resource Management, Human Rights, Conflict Resolution and Peace Building, Public Administration, and Master of Philosophy and Doctor of Philosophy. Our programmes are contributing to the sustainable development of the country and helping Sri Lanka to achieve Agenda 2030 through our research and dissemination of knowledge. In addition to offering postgraduate degrees, FGS Colombo contributes and facilitates research through the annual research sessions, FGS seminar series, and FGS multidisciplinary journal published bi-annually.
Graduate education at FGS is a transformative experience fostering intellectual curiosity, a love of knowledge, and the desire to excel. Our graduate programmes offer students the skills to reach for new career opportunities or to pursue a path towards advanced research and study. The greatest strength of the Faculty of Graduate Studies of the University of Colombo is its Teaching Faculty consisting of well-trained academics and industry experts who acquired their academic and professional training from well-reputed Universities all over the world and thus have brought diverse experiences, traditions, and perspectives, which are definite requirements to train the professionals who very often need to cross the boundaries of cultures, disciplines, and experiences in the continuous flux of their organizational lives. Moreover, with the Covid-19 pandemic and restrictions in conducting on-site lectures, the FGS was quickly able to adapt to on-line teaching modes and accommodate student needs in providing them an un-disturbed learning experience.
I wish all students at the FGS, Colombo to learn and excel in this challenging and competitive era and the pinnacle of success.
Professor A. A. Azeez
Dean/ Faculty of Graduate Studies