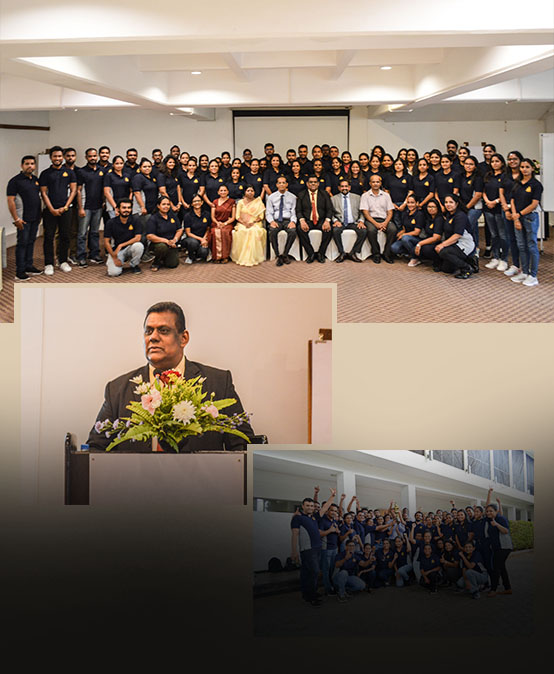 MBS Workshop 2023 Programme
The Faculty of Graduate Studies hosted a workshop for MBS 2023 students on September 10th, 2023, at Club Dolphin Hotel in Negombo. The main goal of this workshop was to learn about the latest business trends, challenges, and strategies, and to understand how leadership is crucial for business success. The workshop had two parts: Industry CEOs shared their knowledge and experiences in the first session; The second session focused on improving soft skills through an outdoor training program.
Key speakers for the event included Founder and Chairman Pelwatte Diary Industries Private Limited, Mr. Aryaseela Wickramanayake and Founder and chairman Ceylon Eco Life Allianz./ Mr. Nandana A Wickramage. They provided valuable insights into various aspects of business strategies and challenges, particularly during times of crisis. They also discussed the significant role that leaders play in overcoming these challenges. The sessions were moderated by the Vice Chancellor, Senior Professor/Chair HD Karunaratne, and Dr. Seuwandhi Ranasinghe, which fostered interaction and discussion among the students, resulting in an enriching experience for all participants.
Notable figures from the Faculty of Graduate Studies included Professor AA Azeez, the dean, and Professor R. Senathiraja, the MBS program coordinator, along with Prof Nihal Padmasiri, Director of Career Guidance Unit, University of Colombo who formed part of the resource panel. Their presence aimed to share knowledge and create networking opportunities for both students and industry professionals. The outbound training provided by the Career Guidance Unit at the University of Colombo, adding further value to the event.
Overall, the MBS Workshop exceeded expectations and significantly contributed to the academic and professional growth of postgraduate students within the Faculty of Graduate Studies, University of Colombo